Guide for Sydney Pubs – Part 3:  Hospitality Marketing - Social Networking Vs. Search Engines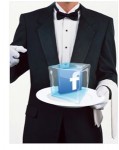 Sydney Pubs should integrate Search Engine Optimization and Social Media Networking into their Hospitality Marketing. Search Engines queries will find information and social networks update users on topics of interest. Social Networks are interactive, Search Engine results are not, well not in the same way. However, the two have been blending for some time. Now when you create an account with a search engine you can leave reviews, add places to maps, join groups, blog and advertise. This is largely the same for social networks. The format and peoples perceptions on how to use them is the difference.
A good pagerank is a powerful business driver. Appear prominently for a search term will get most of the traffic. Results in Google Places are heavily biased according to the proximity of the person searching to the service and quality of review scores. If a person has a Search Engine account location in Burwood then the results prominently yielded will be those in and around Burwood. Google advertising results will be determined by bid price, keywords and Geo Targeting set by the advertiser. In many cases this traffic equals sales leads. And therefore prominence has value. The same is true of Social Networks. Type in what you are looking for and the results that most closely meet your search term will appear. In regard to Social Networks prominence will be given to people and pages based on Likes and Recommendations from their friends as well as locality and keyword match. A Facebook the users news feed will by default show updated from those people and pages that they interacts with most. While Social Networking sites have commonalities with search engines there are a few differences in the way they dish up the information and the way they are used. Both are essential tools in Hospitality Marketing.
Search Engines results are biased by the users account information, such as user home location, age, gender and previous searched and clicked links. Social networks are more like conversations where likes and recommendations from friends will bias results. Social Network Recommendations have a greater influence on a person because of their familiar source. Search engines results are initiated by the user when typing a search term however their friends connections have little impact. Therefore information from a Social Network site is more influential and relative to the user. The two cross over in some respects as Search Engine results will reflect an account holders reviews and associations with particular websites.
The features distinguishing Search Engines and Social Networks are fading as they are both competing for attention on the internet. Search Engines are increasingly influenced by user reviews and Social Networks are being used to find services. You can join groups on Google and discussions and Q and A forums on yahoo. They all allow context sensitive advertising. Social Networks are good for two way conversations, advertising events and discussions. Hospitality Marketing can exploit the way their target audience uses Social Networks and Search Engines. Search Engines are good for finding web sites and sources of information on a topic. Being found in Search Engine results is valuable because it is your website where you have the greatest control of content. Social Networks allow discussion, feedback, interaction and are perceived as more transparent.
The Social Network are for connecting with people while the search engines are used for connecting with information. The importance of social networks depends on the services a business provides. A local tradesman would be better getting her local page rank up than developing a Fan base on Facebook. In contrast, pubs in Sydney provide services for social interaction so social network marketing should be their main on-line focus. Their web site or web sites should be integrated into this strategy. A website with embedded social network widgets (like, recommend and tweet buttons) and solid back links from the social media site will rank higher in search engine results. Therefore complete integration with social networks maximizes a sites viral marketing potential, and search engine page rank potential.
Below are some examples of a combined Search Engine and Social Network strategy used for event promotions.
Band Night, Anzac Day, Halloween Party, Karaoke and Trivia:
- Accounts established with the major 3 search engines.
- Comprehensive venue profile information in Twitter, Facebook and Google places. Including an event schedule or a link to one.
- Establish a dedicated page to the event on your website, with appropriate internal links. Embedded Facebook "like" and Twitter "tweet" buttons. Create and link to a facebook event so attendances can be confirmed.
- Content on the venue website should be search engine optimized (SEO) with well structured HTML. Embedded with Facebook "like" and Twitter "tweet" buttons.
- Post an Event through the venues Facebook Page. Include a link to the events page on your website.
- Pay per click advertising on Facebook using the targeting tools to focus promotion at your desired audience.
- Post event details to Twitter with link to your website event page. Tag the bands or events name.
- Update the venues Facebook page and Twitter account a week prior, with reminder updates throughout the week.
- Reminders should link to the Facebook Event so Fans can see who is attending.
- Notify Facebook, yahoo and Google groups. Post coupon via Google places. Include links to Google maps for directions. Add the event to any online calenders.
- Avoid woffle otherwise fans will hide your news feed the equivalent to turning you off as an information source.
Online Promotion Strategy for Bistro or Restaurant
- Requires a a dedicated page for your menu on your website with pictures and up to date prices.
- A Facebook "like" button beside each menu item. A Twitter "Tweet" Button at the top and bottom of the page. An embedded feedback dialogue box.
- An archives page with past menus.
- Menu posted to the notes section of your Facebook page and periodically on your Facebook wall.
- Twitter updates each time the menu is changed, with links to the menu. And prior to special days like Mother's Day and Melbourne Cup.
- Post pictures of each dish on the menu page. People like pictures.
- Post specials to facebook.
- Use Google places coupons. People who find your venue using Google places and get a coupon code at the same time, are more likely to come to your venue, remember your venue and review it on Google places. This will also elevate your sites page rank.
Online Hospitality Marketing needs to integrate through links your Social Networking and Search Engine efforts. This will enhance your visibility on both. It is a continuous process of updating each with interesting and relevant information. Engaging content is the foundation of both.