Sydney Gay Bars - The Imperial Hotel, Erskineville
35 Erskineville Rd,
Erskineville NSW 2043
(02) 9519 9899
A hero among Sydney gay bars the Erko has comedy and live music and a tradition of cabaret and drag. The front bar has Art Deco styling with large TV above and a fish tank. There's also a jukebox, photo-booth and vending machine. The bar has the standards including Coopers, Tooheys, Carlton and Reschs. It's a comfortable space and the staff are personable. In the basement is the Roller Den and bar. The smoking area is upstairs. It's not a fancy example of Sydney gay bars, however it certainly has atmosphere. While this Sydney pub is frequented by those that walk on the Wild Side it is also the local for many of those who live in and around Newtown.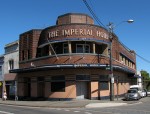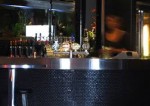 Imperial Hotel – Sydney Gay Bars