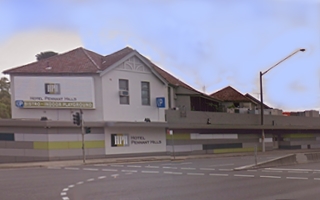 Hotel Pennant Hills
352 Pennant Hills Rd
Pennant Hills, NSW 2120
The Hotel Pennant Hills, formerly know as Pennant Hills Hotel or Penno Pub has gone through many reincarnations. It's latest is in the modern style common with every other pub renovation in Sydney. Sleek timber and chrome, blended with soft furnishings and and big circular light shades, glossy polygonal ceiling ornamentation and soft lighting. Don't get me wrong. I like it. I am just amused when it is ascribed as having personality. Sydney pubs of the past were squalid and reeked of stale beer. Penno Pub was no exception. Thankfully those days are long past. Any hoo. I've always like the Penno Pub and have visited it many times. There's always a quiet spot and something to entertain. There is sufficient demarcation between the zones so they don't infringe on each other.
The bistro is comfortable and atmosphere is relaxed and not too noisy. The menu has sufficient variety and the prices are about right.
Cafe Menu Available:
Monday to Saturday: 9.30am-12pm
Sunday: 10am-12pm
Bistro Menu Available:
Monday: 12pm-3pm, 6pm-8.30pm
Tuesday, Wednesday, Thursday: 12pm-3pm, 6pm -9pm
Friday and Saturday: 12pm-3pm, 5pm-9pm
Sun – 12pm-8.30pm (Reduced menu 3pm-5pm)
There's a Kid friendly menu and Gelato Bar
The Drive Thru Bottle shop is at the front of the car park with access from the car park and Pennant Hills Road.
Functions can be booked for corporate events and celebrations, with several areas that can be hired. A Function package download is available from their website. Function Areas include:
 The Party Room:
An combined outdoor and indoor area for between 30 and 50 guests.
The Lounge:
Which can cater for 60 to 100 people and also has outdoor area.
These two area can be combined to cater for 90 to 150 people.
The pub also has a kids playground suitable for children aged from toddler to 10 years old. There is also a parents room.

Hotel Opening Hours
Monday – Saturday: 9.30am – late
Sunday: 10.00am – 10.00pm
Drive Thru
Monday to Saturday: 9.00am – 10.00pm
Sundays: 10.00am – 9.00pm